What IS a Goat-Doping Scandal?
Enjoy this excerpt from TRACKING HAPPINESS: A SOUTHERN CHICKEN ADVENTURE where Lucinda Mae's amazing train trip is interrupted by a phone call from her mama Rita Rae and her mama's boyfriend Clyde Higgenbotham. Turns out, back home in Edison, Mississippi, gossip is flying about Lucinda's poor dead daddy's role in the local drug scandal, with the flames being fanned by none other than her daddy's old business partner, Bennie "Big Doodle" Dayton. 
Tracking Happiness: A Southern Chicken Adventure: CHAPTER 3
Clyde was talking in that nasally voice he used when he wanted to sound important, like at the supper table when he was spouting off Learning Channel wisdom. "Law enforcement are crawling all over the Chicken Palace, looking for evidence on the drug ring. And Stirling's getting remarried."
"Don't tell her that." Rita Rae was back on the line. "She can only take so much. You wouldn't believe what they're saying about your daddy now."
"Who's saying?" I asked.
"Newspaper. Online." Clyde again, a real I-told-you-so tone to his voice. Clyde was at his most obnoxious when the topic was small-town politics. Clyde's dad had been a state legislator. Never mind that after the man had died, they discovered the old coot had another family over in Jackson. Mother claimed that mortification didn't count because Clyde "wasn't from that other family." 
"The Clarion Ledger's been quoting inside sources saying your daddy was the linchpin king behind a goat-doping, chicken-smuggling scandal." 
"Daddy? A goat-doping scandal?" I flashed on an image of a goat sitting on a stool, arm braced for the illegal shot that would make him a better mountain climber. "What does that even mean?"
"Focus, Lucinda." It was my mother. "They're saying Bill ran a drug ring out of the Edison Chicken Palace, and Bennie Dayton isn't raising a finger to stop this malicious talk." 
"Ol' Bennie practically called Edison a rogue operation," Clyde added. "'Whatever the local investors were up to shouldn't reflect on the good name of the Chicken Palace Emporium,' blah, blah, blah." 
"They're calling Daddy a criminal? Are you sure?" Mother and Clyde had a tendency to exaggerate ("They're closing the I-20 exit to Edison! Traffic's being re-routed to Bovina!" When the only thing that was happening was a re-paving). It was best to ask twice. 
"You got your work cut out for you, little lady, dealing with that Bennie Dayton. Your mama is counting on you to clear this mess up. Everybody in town is believing your daddy was a criminal. People'll believe anything they read on the Interweb." 
He paused. "The scandal could improve attendance at the museum, though." Clyde was referring to Big Doodle's Chicken Palace Emporium Museum located off the highway exit. The museum featured memorabilia commemorating the Chicken Palace story, such as the Ride-a-Rooster—a big, bucking chicken whose name took on a whole 'nother meaning when us kids hit middle school. "That crappy museum might finally outdraw the Tomato Museum in Bovina."
At that, Mother snatched the phone and launched into a garbled explanation of the "biggest drug ring in the Southeast"—something to do with goats imported from Jamaica, smelly chicken parts, and a tractor-trailer distribution system—until I said goodbye, trying to remember as I hung up: did someone say Stirling was getting remarried?
Hope you enjoyed this excerpt. For the rest of the story, get TRACKING HAPPINESS: A SOUTHERN CHICKEN ADVENTURE in print or e-book on Amazon—audio book coming soon!
"I personally don't see the point of being in business with chickens if you're not gonna be nice to them."
Lucinda Mae Watkins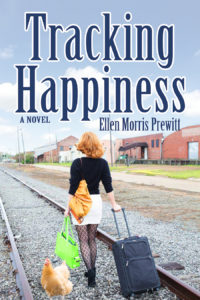 #beachbooks, #beachlife, #beachreads, #forthechickens, #humour, #summerreads, #TrackingHappiness, backyard chickens, be nice to chickens, chicken novels, Humor, Tracking Happiness, Tracking Happiness: A Southern Chicken Adventure