A Snake Snob
These people live down the way from me. They're from California. They have a pond in their front yard, and every once in a while a commotion breaks out because they've seen a snake around the pond. "It's a cottonmouth!" they yell, eyes bright.
They wouldn't know a cottonmouth if it jumped up and bit them on the be-hind.
I admit it: I'm a snake snob.
I know cottonmouths from fishing on the big lake at Mamo's farm. Cottonmouths, what we also called a water moccasin, would lie in wait on the bank. Dark colored like the muddy shore, they hid. Or else they'd hang from the trees, thick bodies swaying in the breeze, mouths open, tongues darting.
Okay, that last part might be an exaggeration. The point being, I was taught as a child to recognize a cottonmouth, so named because its mouth, when opened, looked as soft and fluffy as a pad of cotton.
Deceptive, that snake. 
In a triage that is necessary when you spend long, slow hours wandering in the fields, I knew the copperhead too. Orange and dusty brown, laying perfectly still it could be mistaken for a vine—that was a copperhead. We knew the drill: when near the water, look for the cottonmouth. In the fields, keep your eye out for the copperhead. 
The thing was, the copperhead was pretty tame, not bothering you unless you bothered it. The cottonmouth was a mean snake (don't believe the Wiki article I cited above when it says their aggression is overstated—that snake is mean.) The snake—a viper—didn't like us, would bite in an instant, and that bite was the real-deal, deadly poisonous. We'd see the menacing snake out in the lake, swimming with its head held high above the water, the snaky body zig-zagging across the lake's surface.
That part's not an exaggeration.
The point is: if you see a nonpoisonous water snake or a king snake or a common garter snake, don't come hollering and jumping around me. You live on an island. In the Mississippi. That's where the snakes live. You best learn to tell them apart.
(I'm sparing y'all's sensibilities and not including a photo of a snake. Here's a photo of Chompers the alligator instead.)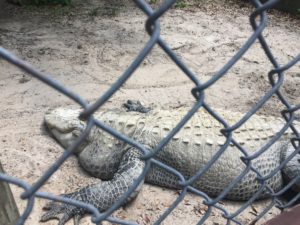 Poisonous North American snakes, Snakes in the South, Southern snakes, Tracking Happiness, Tracking Happiness: A Southern Chicken Adventure