The Bed Rises
Two weeks ago, this bed was fill dirt. Before that, it was a driveway, a leftover scar from Hurricane Katrina.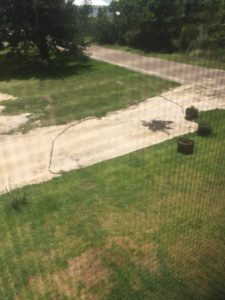 The storm, which hit in 2005, decimated the community where we built our beach house (yeah, I know—it's a calculated risk.) Waveland, Mississippi was "Ground Zero" where the Category 5 hurricane made landfall. We've been here for two years and recently bought the lot next door on the beach side of the house (we're about 800 yards from the water—I was willing to take a risk but unwilling to build right on the Gulf.)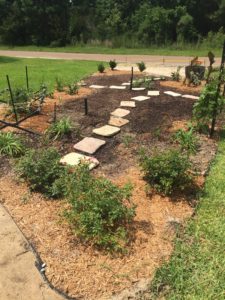 I used an old Coleman cot as the trellis for this vining plant. Only after I placed it inside the cot did I realize it was a Passion flower. 🙂 They say it's heavenly to butterflies. If so, that will make me happy.
Here's a close up of the Dragon's Blood ground cover I'm using in the bed. It did well for me in Memphis so I'm trying it here.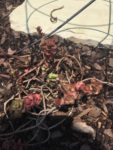 When the temperature drops in the fall, I will transplant some Asiatic and Oriental lilies into the bed; I was using them to demarcate the lots, which doesn't make sense now. We'll put sod around the bed where the driveway and former house foundation were. That is, if the grass doesn't grow into the bare spots all on its own—it's trying. The soil here is TERRIBLE.  Not as bad as the red clay that I encountered in the hills of North Alabama, but pretty bad. Heavy white clay. The plants I used in the bed are said to live in clay. As always, we will see.
Oh, and the bed has advanced my being in community. As I was working, my down-the-street neighbor came by. He stopped to talk. I wound up with an offer of three new plants I'll pick up tomorrow. This winter, I'll give him a cutting from my fig, which I'd already bragged to him about (from my Morris family's State Championship Fig Tree, which I'm sure I've also bragged to you about—I'm a braggart). He requested a cutting, thankfully—sharing only works if it goes both ways. He said, post-Katrina, he could stand at his house at the far end of the street and see all the way to the beach, not a tree in sight. The devastation is hard to imagine.
Still to do in the bed: mulch around the recently planted day lilies and liriope and put up an iron gate that I'll be buying in New Orleans. I'll keep you posted. In the meantime, here's a photo of Mr. Potato Head taking on the chickens. Story to be continued.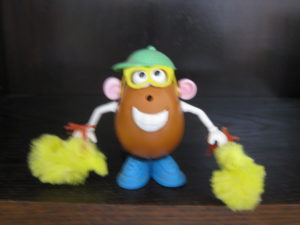 peace in creativity, Ellen
#beachlife, #beachlife #TrackingHappiness#beachlife, #TrackingHappiness, Ground Zero Hurricane Katrina, hurricane katrina, Mississippi, Waveland