Writing Can Bring Us Together
This morning, preparing my space, I spread out my index cards, fanning them onto the folding table. To mix it up, I alternated cards written in red Sharpie with cards written in green or blue or black. On each card, I had written the start of a sentence: I always smile at… Or, If you tickle me… My best friend is… I've always admired… My plan was to invite those attending Arts Alive! to complete the sentence any way they chose. Teachers recognized these as writing prompts, but I called them a "Writing Moment." If folks participated, I would offer them one of my We R Righting Group books. My goal was to spread the word: writing can bring us together.
Last year, I participated in this same Makers Space at Arts Alive! But I used a very different format. (It's not easy to think how to "demonstrate" writing—the potters and t-shirt screeners would have captured my attention any day.) Last year, throughout the day, I gave away about five books. In contrast, this morning, in two hours, about 20 people took a book. I think the Writing Moment was the key to them wanting a book.
Writing: Kids and Adults
When it comes to creativity, I've always been taken with the difference between kids and adults. It held true today. Kids dragged their parents and grandparents over. In contrast, adults had to be coaxed in. But there they were, studying the cards, listening to me give my spiel. I shared my 8 years of facilitating a writing group of those living on the streets. How, eventually, we had those housed and homeless writing together. I told them that experience taught me that, no matter our backgrounds, writing can bring us together.
The Writing They Offered
At the beginning, in order to encourage participation, I mixed completed cards in with the ones still waiting to be chosen. Over the years of facilitating group creativity, I've learned we tend to feel more comfortable if we aren't the first. But I continued to display the answered cards so others could see them. Folks were finishing the sentences in the most unexpected ways. I wanted everyone to enjoy the surprise of the answers, the delight of how different we are. Ultimately, I ended the morning thinking that, if we could see our differences as a miracle, how much easier love would flow.
The Writing Togetherness
For the kids who completed a card, I offered a pencil. "To remember you are a writer." I won't easily forget their solemn looks as they took the pencil or quick acceptance of the offer—it felt like a thing. Same with the adults who came over tentative and wound up asking if they could have a book. Folks were so honest, so themselves, no matter how fleetingly. Together, for that moment, we were all writers.
In conclusion, I thank The Arts, Hancock County and Emma Connolly for including me in this day. Check out the website for all their offerings!
ps there's a kid out there who really doesn't want to be tickled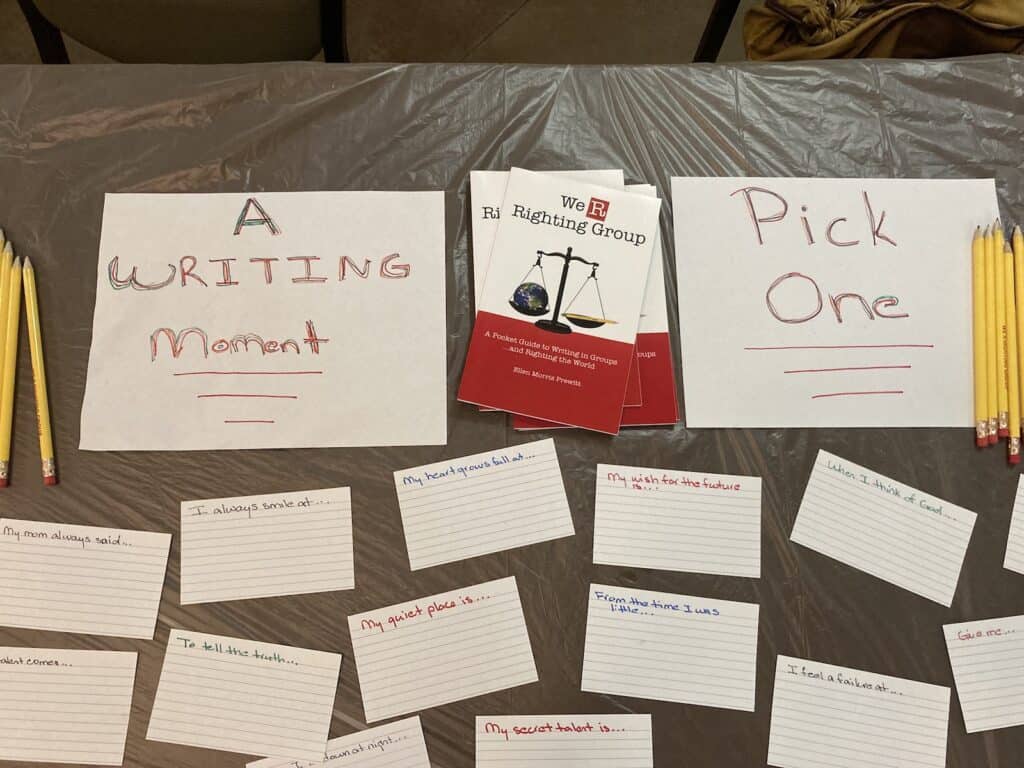 Arts Alive!, forming your own writing group, how to start a writing group, how to use writing to build community, The Arts Hancock Conty, the connective power of writing, writing as a tool for community, writing can bring us together