One Liners
We, the most Southern couple on earth, are going to Michigan! Mackinac Island, to be specific, which my grandmother Bigmama talked about all the durn time when I was a kid. I'll share photos.
We're having a book launch at Novel Bookstore in Memphis this July for The Hart Women! The Hart Women is a different concept (a limited edition hand-sewn novel). I'm grateful to Novel for viewing "different" as exciting.
My mother is about to have a very significant birthday! Y'all have to join me in my joy without knowing Mother's exact age—I know better than to blurt that out.
Two very fine agents are reading HARBORING EVIL! (A formerly homeless man uses his street smarts to prove the kind woman who helped him get housed didn't murder her husband—only to discover she might be involved in a deadly gentrification scheme.) Fingers crossed, y'all.
I planted a mimosa tree! Most nurseries don't carry mimosas because they consider them "trash trees." Never smelled the honey scent or seen a mimosa blossom twirling in the sun like a tiny ballerina, I guess.
An incredibly talented artist and I led the world-premier of the Stations of the Resurrection at St. Mary's Episcopal Cathedral Sunday! It was fabulous. It was Dean Laura's idea. The artist and I made it real, totally from scratch, my kind of endeavor.
And this one is without an exclamation point: I sometimes feel like a small craft on a large, unfathomable ocean. The swells lift me high where I feel myself soaring toward the horizon with the white-winged gulls. Then my little raft rides the face of the wave into a trough that frightens me in its bleakness. I share here with you the buoying peaks. Please know that if you are in a trough, your raft will rise again.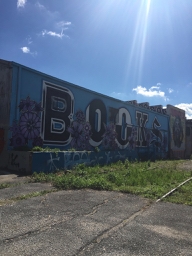 A Book Signing at Novel. Memphis, Harboring Evil, Limited Edition Novel, Mackinac Island, Novel Bookstore Memphis, Novel Memphis, St. Mary's Episcopal Cathedral