The Plates (or chainsaws)
I am a plate juggler. (Or, as my former senior law partner called it, a chainsaw juggler. ) I have a lot of projects going at once. Right now, I'm running as hard as I can after my goal of "getting my work out there." This gives me five projects in various stages of completion. Here they are. (I don't expect you to remember this, but some folks are like, wait, what? For them, I give you the big picture.)
Model for Deception: a Vangie Street Mystery
STATUS: published last week; for sale on Amazon in paperback and ebook
BLURB: Vangie Street is older—thirty-two to be exact—when she takes up modeling in the "big city" of Memphis. She loves showing the fabulous clothes almost as much as she loves her pound-puppy Retro, her cute if slightly decrepit Midtown cottage, and her hunky new boyfriend Nash. Life is perfect—until an expensive earring shown by Vangie's modeling partner Heather Jackson disappears at the Memphis spring fashion season kickoff. When Heather herself disappears, Vangie must use her "clothes whisperer" intuition to puzzle out the truth of what's going on….and keep her own self out of trouble.
"Vangie…is a smart, sarcastic, fashion-obsessed 30-something who has a large metal cutout of Elvis Presley gracing her front lawn. It is just fun spending time with her…A well-paced, offbeat mystery with a healthy dose of snark; fashion statements abound."— Kirkus Reviews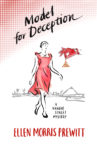 The Hart Women
STATUS: a handbound novel that will Launch April 27 at Central Bistro in Bay St. Louis, Mississippi
BLURB: The house at 1011 St. Lawrence Street once rang with joy. Now, the porch sags, the window panes run with cracks. In one generation, the home that nurtured the wealthy Mississippi Hart family sits abandoned. Did tragedy undo the family, or did the family create its own misfortune? The story begins in 1968 Fairview, Mississippi, when Poppa Sam Hart dies…. 
Told through the eyes of favorite grandchild Emily Hart Fielding, The Hart Women explores the corrupting influences that entangle the human heart. Emily's discovery of the  forgiveness she seeks will stay with the reader long after the book is finished.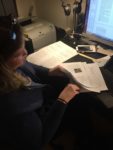 We R Righting Group: A Pocket Guide to Writing in Groups…and Righting the World
STATUS: Finishing up reader feedback; tweaking cover; release early summer 2019
BLURB:
"We R RIGHT*ING GROUP" 
/wee ar ritiNG groop
/noun
1. A one-hour period when people gather to receive a topic, quietly write for 20-30 minutes, and, if they want, share with the group what they've written.
2. A force to change the world.
A vital new way to make connections, We R Righting Group: A Pocket Guide to Writing in Groups…and Righting the World  is the perfect "how to" for those seeking community in today's difficult world. With humor, directness, and a passionate belief in the sideways magic of writing in groups, the editor of Writing Our Way Home: A Group Journey Out of Homelessness offers a simple guide for anyone who wants to better understand themselves and others.
Harboring Evil, a Coot Long Mystery
STATUS: Got a GREAT editorial review via Black Lawrence Press; final tweaking to follow; I'll be looking for an agent on this
BLURB: Coot Long would rather throw himself in the river than get tangled up in a murder investigation. Lord knows, twenty years of living on the Memphis streets have taught him that much. But here he is, midnight on the Wolf River Harbor, examining a bag of the murdered man's clothes. Coot can't stand to think about how the man died: naked in his car, hands barb-wired to the steering wheel, the Jeep slowly rolling down the ramp into the black water. Coot would never get involved in such mess, but he's hoping to clear the name of kind Mrs. Manuez whose faith in him led him to get off the streets, get housed, get stable. He's risking all his hard work to prove she didn't kill her husband, but what if she's not as innocent as he believes?
HARBORING EVIL is a 76, 000 word dark mystery featuring a formerly homeless man as an amateur sleuth.
The Bone Trench
STATUS: had an agent; lost an agent; submitting to small presses; being read by a possible new agent
BLURB: THE BONE TRENCH is a literary dark fantasy of 103,000 words that uses religion and humor to explore mass incarceration and the private prison industry. THE BONE TRENCH was a Short-List Finalist in the William Faulkner-William Wisdom Novel-in-Progress contest. 
You'll never find this 2nd Coming in anyone's Bible. For one thing, Jesus can't remember why he returned to earth, much less why he came to poor-as-hell Memphis, Tennessee. For another, Mother Mary is crashing the party—frantic to protect her son, she hot-foots it after Jesus without authorization. Much to the consternation of her snarky guardian angel, Mary decides bones rattling up during construction of a devilish new private prison hold the key to protecting Jesus, and she inserts herself into the prison uproar. Meanwhile Jesus, lacking divine insight, gets entangled with the beautiful leader of the anti-prison campaign. Is she part of his plan, or does the boy badly need the advice of his mother?
Jazzy and the Pirates
STATUS: 40 pages from finishing a major overhaul; omniscient narrator changed to 1st person; telling pegged more firmly to the kids' story; agent search to follow
BLURB: Jazzy Chandler's ancestors were pirates, Jazzy just knows it. She and her dad spent every Saturday morning combing the French Quarter or paddling the Barataria swamps for clues her great-great-forever-great grandfather fought alongside Jean Laffite the pirate king to win the Battle of New Orleans. But her dad died—drowned in the midnight waters of Bayou St. John—and now the scaredy-cats at City Hall have told them they have to leave the city before Hurricane Katrina hits. Jazzy's not afraid of hurricanes—she's survived two already this summer—but she and her mama evacuate to her dad's Mississippi home where Chandlers have lived since God was a toddler. There, on the banks of the Pearl River where her dad played pirates as a kid, she learns the New Orleans levees might breach, the pumps fail, and her city flood. Bound and determined to do something, she ropes in her new friend Chukwa Humes, and together they magically call forth Jean Laffite from an old ship-in-a-bottle.
Moses in the Gulf
STATUS: haven't started writing the sucker yet, but that's the next thing!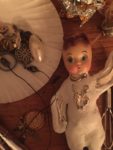 fashion, Fashion model detective, Model for Deception: A Vangie Street Mystery