All the Way From Canada!
Please enjoy this kicking review of Tracking Happiness: A Southern Chicken Adventure found on Susanne Fletcher's Wuthering Bites blog. I am thrilled Susanne compared the comic dialogue to P.G. Woodhouse, whose Jeeves collection I long ago fell in love with and read in its entirety (how one gets so lucky as to be compared to a beloved writer, I don't know.) It's an extra special bonus when a review quotes some of your very own favorite lines from your book ("…a woman who represented everything I was not: sophisticated, voluptuous, and a really good speller.") A well-written review is surely a gem unto itself.
If you haven't discovered Susanne's Wuthering Bites blog, take some time to look around. She is a great creative nonfiction writer, a true wordsmith who combines spectacular turns of phrase with insights that make you nod in recognition. I have followed her for years and thoroughly enjoy her work.
As an extra special super bonus, if you follow the link below, you can enjoy a haunting rendition of Gordon Lightfoot singing "Wreck of the Edmund Fitzgerald," which, yes, is relevant to the review. Happy reading!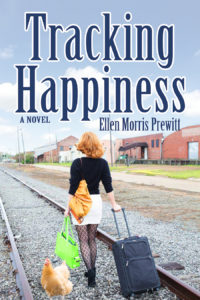 #beachbooks, #beachlife, #beachreads, #forthechickens, #TrackingHappiness, 2018 beach books, 2018 Beach Reads, 2018 Summer Novels, Best beach reads 2018, Tracking Happiness, Tracking Happiness chickens, Tracking Happiness: A Southern Chicken Adventure