The Secret Lives of Church Ladies
Life is circuitous. I follow a list serve put out by Jackson State University professor C. Liegh McInnis who wrote about an interview between Kiese Laymon (Heavy; Long Division) and Robert Jones, Jr. (The Prophets) wherein they recommended, among other titles, THE SECRET LIVES OF CHURCH LADIES. And just like that, I have a new favorite author.
It's no secret…
Deesha Philyaw's The Secret Lives of Church Ladies is a short story collection, winner of the Pen/Faulkner Award (among tons of other accolades), proving that short story collections can get all the respect as long as the author has something to say.
From the first sentence of the first story, we're traveling inside voices. Different voices, different personalities, but all Black women and all the type that makes you want to prop on your elbow on the day bed with a blanket over your feet while you turn the pages, reading and reading. The collection had such an impact that, when I was digging through the stacks of books in my bedside table to write this review, I shoved aside a thin volume dwarfed by Black Panther: Tales of Wakanda. No, that little slip of a thing can't be it. But it was. Kind of like the Tardis, deceptively small from the outside, expansively delicious inside.
The collection has 9 stories, and the epigraph sets the tone:
Let it be known: I did not fall from grace.

I leapt
to freedom.

Ansel Elkins, "Autobiography of Eve"
That lives are secret…
It's impossible to scan these stories. I tried when refreshing my memory for this review. Each time, I wound up re-reading the entire story. You read the first line of "Peach Cobbler—"My mother's peach cobbler was so good, it made God himself cheat on his wife." You think you know where the story's going. Trust me, you don't. None of these stories choose the predictable path through the telling, and I'm so glad for it.
And, just to be a literary nerd, "How to Make Love to a Physicist" Is told in second person, and it's so well-crafted in a not-awkward-stylized-pretentious-bullshit way that you don't realize it's told to "you" until you're deep into the story. I love that the telling is structured by reframing the title as a repeated question until…the question is answered. ❤️
There's so much to share from these stories, so much to recognize, so much to learn, but I'll use this quote by the daughter of a woman with dementia, because it comes near the end of the collection and exemplifies the reconciliation in (some of, but obviously not all) the stories:
"She didn't know whether Mama remembered her. But it was enough to know that Mama wanted her to believe she did."

"When Eddie Levert Comes"
Until the secret's told
The stories in The Secret Lives of Church Ladies are religious and profane and sweet and hard and Southern and displaced Southern and funny as hell and sorrowful and so wonderful to read. I hope you enjoy them.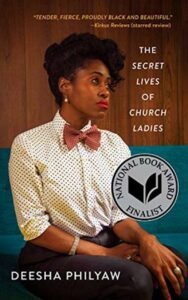 Deesha Philyaw, Grisham writer-in-residence, Pen/Faulkner Award, The Secret Lives of Church Ladies