The Chick in the Eye Patch
On the flight to Jerusalem,  I watched my Israeli seat mate, a seasoned traveler, do a nifty trick with her contacts, using no water. I followed suit, and two days later I couldn't see out of my right eye. Of all things, one of the priests on our trip had been an ophthalmologist before taking his orders. "The human eye," he said, "is the fastest healing organ in the body. But it needs to be covered up."
Again, in a tumble of coincidence, one of the other priests in our group was blind, the result of a high school accident that severed his optic nerve. He produced a black eye patch. I put it on. Moshe Dyan was reborn.
Of all the sights in Jerusalem—a city filled with extreme costumers—apparently nothing was as odd as a white woman wearing an eye patch. Crowds parted at my approach. Staring abounded, as did laughter. At age forty-eight, I learned what it felt like to be made fun of for a physical difference. A schoolboy spied me in the window of the tour bus and pointed, doubling over with laughter. Then he poked his friends so they, too, could howl. "You look like a model," one of the women in my group said, because I had cut my hair so very short for the trip. Not to the little boys, I didn't.
Most surprising, though, was the effect the patch produced on the notorious groupings that make up Jerusalem's Old City. The city is visually divided into tribes. You can tell who belongs to which tribe immediately based on their clothing. The Palestinian women wore monochromatic pantsuits. Orthodox Jewish men were draped in black with their distinctive beards. Armenians tended toward traditional dress that complemented their blue eyes. We Americans were well-recognizable in our typical tourist attire. My black eye patch acted as a talisman of acceptance, or at least tolerance.
When I misstepped (literally) and bumped into someone, the automatic gesture of annoyance interrupted itself mid-expression and became a hand blessing. Jew, Muslim, Armenian concentrated to figure me out. Who was I? Why was I wearing a patch? I was no longer a Christian, American, Westerner. I was a chick in an eye patch. I will not forget the bright eyes of the Muslim boy who wanted to sit beside me on the stone steps to find out who I was, discover what this new and strange thing might be. 
Within my own group, I shunned the obligatory souvenir photographs. Why did I want a reminder of this? But my friends clamored, "We need you in the picture!" and I relented. Now I have a photo of myself in a limestone café at the top of a hill in the Old City. A pensive look bathes my face, as if I were listening to the far-off call of the city. In the background, the Dome of the Rock gleams in the sun. It is, for me, the image of Jerusalem: a place where God was rendered human.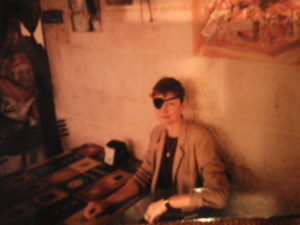 ellen morris prewitt, Jerusalem, The Old City, Tracking Happiness, Tracking Happiness chickens, Tracking Happiness: A Southern Chicken Adventure