The Backstory
He stopped me in the stairwell of the yellow brick church on Monroe. It was our first session of the Door of Hope Writing Group held at the church. The church was temporary. We'd moved there from the backyard of Manna House where I teetered across the gravel in my high heels and June Averyt flung out her arm and said, "This is Ellen Prewitt. She's going to teach us how to be a writing group." In the church, we wrote in the kitchen, but at least we were inside.
I didn't know him. I didn't know anyone yet, though Leroy Scott and Tommy Payne had already lodged themselves in my memory. I don't know if I even recognized him from a prior session—was his beret familiar?—or if this was our first time going from strangers to a person. He wanted to know, "What was that word you used about my writing?"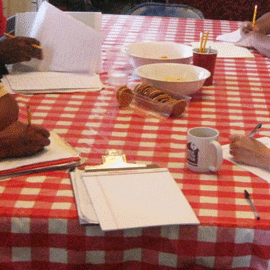 We talked about craft in writing group. We talked about it a lot. Each time a member shared their writing, I commented on something craft-driven in what they'd written. He had written a story about his time working on Beale Street and, to describe the impact the glittery African-American street in Memphis had on this small-town boy, he included backstory on his life.
"Backstory," I told him in answer to his question. "When you include something that is necessary to understand the point you want to make."
He repeated it—"Backstory"—like I do when I wanted to stick something in my brain.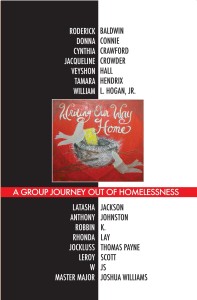 Gradually, I came to know him as Roderick. Roderick Baldwin. I wasn't clear if he was a guest at Door of Hope or in charge, but that was a decision I made early on, not to differentiate between staff, who often joined us writing, and guests who were experiencing homelessness. Over time, he became the manager of the Door of Hope support center where we moved shortly thereafter.
Roderick—along with Leroy Scott, Tommy Payne, Robb Patton, and William L. Hogan, Jr—was a founding member of the Door of Hope Writing Group (not me, because—and this is basic—one person can't start a group; I was the instigator, trigger, grit in the oyster, but not a founder.) He was at the first organizational meeting of what became The Bridge, the Memphis street newspaper started by the Rhodes College students. He because its vendor liaison. He became one of the authors of Writing Our Way Home: A Group Journey Out of Homelessness. He became my mentor, guiding me along the path of interacting with those who were living on the street. And he became a friend.
Unless Roderick was out of town or had a doctor's appointment, I think it's safe to say he attended every Door of Hope Writing Group meeting we ever had. We met for 8 years. Weekly.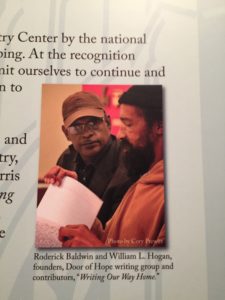 Roderick passed last week, and we will be having his funeral Saturday. We talked on the phone whenever I was out of town. We visited whenever I was in town. One of the last things he said to me when I told him I was stopping by with something for him but not coming inside because I had a bug and might be contagious was, "Oh, you and me, we'll be okay." Of the Door of Hope Writing Group founding members, only Tommy remains.
"Writing Our Way Home: A Group Journey Out of Homelessness", alternative writing groups, Door of Hope Writing Group, homeless writing, nontraditional writing groups, writing about homelessness