Recording TRACKING HAPPINESS
I'm deep in the middle of recording my novel TRACKING HAPPINESS. My followers fondly refer to this novel as "the chicken novel." Earlier, I traveled to Jackson, Mississippi where my very talented sister shot a photo for the book cover. Next, my graphic artist transformed the photo into a true book cover (featuring a chicken, of course). And now I'm recording the content . .  . for the third time.
I didn't know the first two recordings were practice runs, but that's what they turned out to be. I'm now at Chapter 13 in the re-re-re-recording. I record here:
Looks like a bathroom, doesn't it? It is a bathroom. The key to transforming this space into a recording studio is the black box in the lower left corner of the photo. Here's a closeup:
My former sound guy found the recording box on Amazon, a gem of a tool for home recording. It's portable—it breaks down into a flat rectangle that you can take anywhere—and muffles noises swimmingly. I keep all my ancillary recording equipment in this basket:
After I've recorded, I download the readings onto my computer and upload them onto SoundCloud: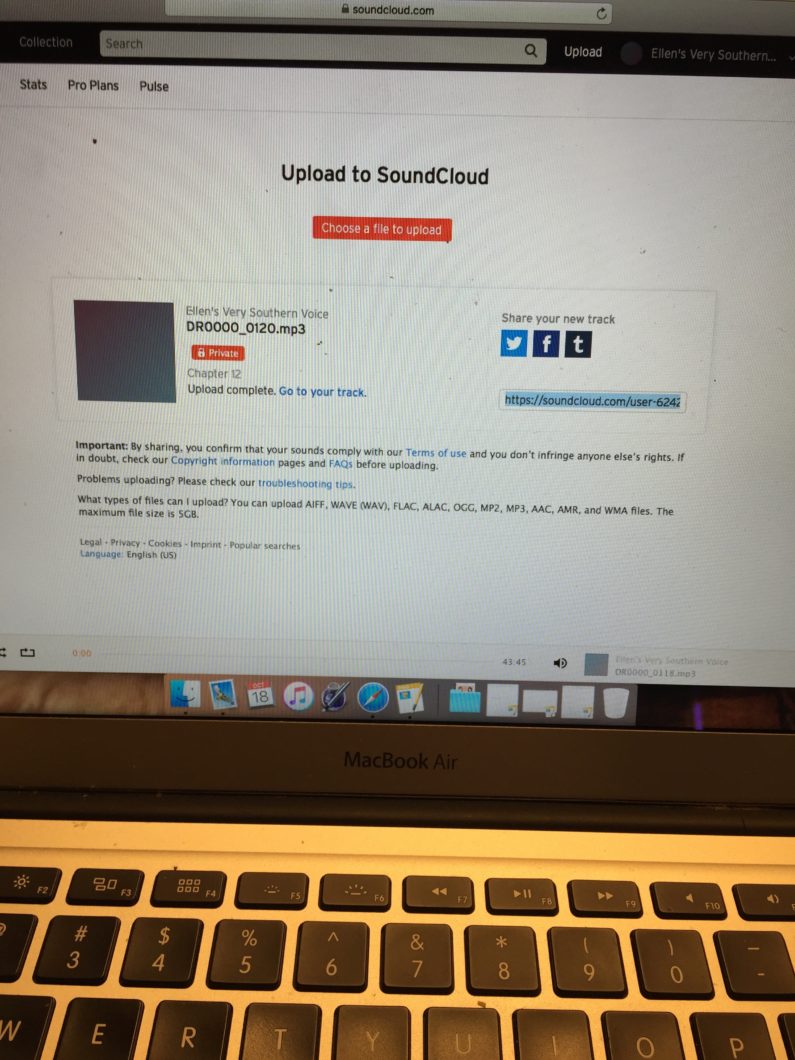 SoundCloud allows you to share large MP3 files over the internet. I'm sharing the files with my new sound guy, who will be editing out ALL my mistakes and fixing the sound quality and generally getting it ready for you to listen to. In the meantime, the recordings on SoundCloud are private, so the cat doesn't get out of the bag.
Anyway, I'm about halfway through recording the novel. It's a total of 303 pages. My greatest take-away from this experience is this: though the total number of pages is about the same as the 14 short stories I recorded in CAIN'T DO NOTHING WITH LOVE, recording a novel is a TON harder. I'm hoping it is equally as successful.
home recording equipment, recording a novel, SoundCloud, Tracking Happiness