Now, Now, Now!
Today, today, today! Time to buy TRACKING HAPPINESS: A SOUTHERN CHICKEN ADVENTURE
BOTH ON AMAZON
For you go-getters who've already bought into Lucinda's antics, TODAY IS THE DAY TO POST A REVIEW!
Join others who've found Lucinda's adventure "uproariously funny" with "gritty Southern determination" and a feel reminiscent of Confederacy of Dunces and Wicked while presenting a story that "truly entertains the reader" and "defines the greatness of the human spirit." All in all, "perfect summer reading."
To post a review on Amazon, follow this link and click on Write a Customer Review.
"I personally don't see the point of being in business with chickens if you're not gonna be nice to them."
Lucinda Mae Watkins

Single-again Lucinda Mae Watkins—of the "Edison, Mississippi, fried chicken royalty"—learns Big Doodle Dayton is blaming her dead daddy for the drug scandal exploding at the local Chicken Palace fried chicken joint. She takes off cross country on the train to clear her daddy's name, while hopefully discovering the secret to happiness along the way. Join Lucinda on the most hilarious—if slightly ribald—adventure of her life.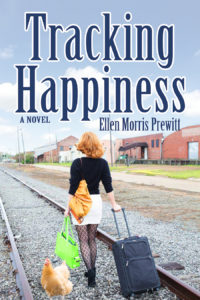 Thank you, thank you, thank you!
2018 beach books, 2018 Summer Reads, best beach books, Perfect beach read, Tracking Happiness, Tracking Happiness chickens, Tracking Happiness: A Southern Chicken Adventure