Luanne Reviews WOWH: A Group Journey Out of Homelessness
Luanne Castle at Writer Site is a poet and essayist working on her memoir. As she considers the best structure for her story (Scrap: Salvaging a Family—she's the daughter of a garbage man), she's reading memoirs by other gifted writers to see how those authors chose to organize their mini-lives between the pages. Best of all, she then turns around and offers us, her readers, thoughtful critiques of what she has read. Her own memoir is sure to be dynamite. Her writing is lovely, and she's digging deeply into the best way for presenting her unique story.
The memoir featured on her blog this week is our very own Writing Our Way Home: A Group Journey Out of Homelessness. If I could, I'd reblog the whole thing because it's just wonderful, but technical differences don't allow me to do that (if any of you readers know who to reblog a WordPress hosted site to a self-hosted site, I'd be glad to know the secret.) So here are a few highlights:
If you have ever—even once–looked at a homeless person and forgot that he or she has a whole history of living, relations, emotions, and past belongings, as well as current needs, hop over to Amazon and pick up a copy of this book! If you want to find out if you should give a handout to someone who asks, you will find eleven answers.
And this:
Now that I've read Writing our Way Home and had time to let it settle into my bones, I feel it's permanently changed me. A big thanks to Roderick Baldwin, Donna Connie, Cynthia Crawford, Jacqueline Crowder, Veyshon Hall, Tamara Hendrix, William L. Hogan, Jr., Latasha Jackson, Anthony Johnston, Robbin K., Rhonda Lay, Jockluss Thomas Payne, Leroy Scott, WJS, and Master Major Joshua Williams for inviting me into your lives.
You can visit her site and read the entire review for yourself. You can also like her author site on Facebook. If you're a Goodreads person, you can find her there too. Most of all, follow her career path so you don't miss out when her own memoir hits the scene. 
Writing Our Way Home: A Group Journey Out of Homelessness is available on Amazon.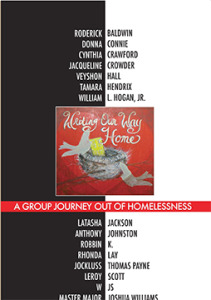 book by homeless authors, homeless memoirs, homeless writers, homeless writing, homeless writing group, luanne castle, memoir, memoir tips, Writer Site