Traversing the Island
For over 40 years, my family has been going to Ocean Isle Beach, North Carolina. Last week, for the first time, I traversed its length.
My goal, since my hip surgeries, had been to walk to the east end of the island where the beachfront road gives way from 1st Street to 2nd Street to 3rd street, the streets victims of erosion, a traditional journey fondly known as "the death march."
Instead, I set off with my sister and brother-in-law in the other direction, and we walked to the west end of the island where the tip merges with the Intracoastal waterway. 
That was about six miles.
But I don't give up goals easily (okay, sometimes I do, but not this time.) So a couple of days later I set out on my own to the east end of the island, walking the beach by myself.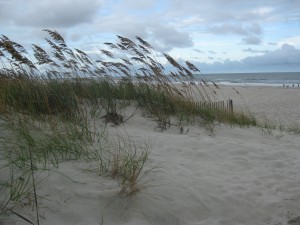 I was gone two hours.
The traversing didn't happen in one go. But it happened. For once, I exceeded my goals.
Love & Kisses to OIB
exercising after hip replacement, living with fake hips, Ocean Isle Beach, walking after a hip replacement, walking after hip surgery