I Assumed You Were Like Me
I wrote a book, and I made an assumption. I assumed you were like me. I assumed that, some nights, as you fall into that state before sleep actually takes you, you startle awake. When that happens, you remember that moment when you quit going to see your grandmother in the nursing home because you were flush with new love and you abandoned her as if she'd been no more than a placeholder in your life. Or you remember—re-live in a hot flash of shame—the moment you sat silent as a grownup berated your little sister and you said nothing because the shame coated you too—you ate just like she did. Or you remember—feel again—the time you gratefully, thankfully, fulfilled your year-long tutoring of a young man who could not read, and when he expressed his extreme disappointment at your abandoning him, you said your League requirement was fulfilled and, not to worry, he'd get a new tutor, gathering your books and leaving.
When I wrote this book, I assumed you were like me, and you have these moments, and I assumed you were further like me in that you carry the question: what do we do with the hurt we've caused others that we cannot take back? 
I assumed you had the moments, and I assumed you carried the questions, and I wrote a book where I tried to come up with answers. The answers couldn't flinch. They couldn't pretend we could fix what we can't, correct our mistakes, because most of them we cannot. I wrote without being sloppy or sentimental or stupid, and I tried to bring comfort for those moments that wake us with a mix of burning shame and a deep well of regret when we acted out of fear or cowardice or selfishness because that's who we are. We gather our errors as we roll through life, and what do with do with them? Where is God in that? How do we forgive ourselves?
I wrote THE HART WOMEN to ask the question and struggle with the answers, and then I asked my artist friend Marisa Whitsett Baker to make the struggle as lovely as possible because author Margot Livesey who taught me at Sewanee Writers' Conference said that making the terrible beautiful is the best we can do with our writing. 
If you liked Marilynne Robinson's Gilead or Kent Haruf's Plain Song, you will love THE HART WOMEN.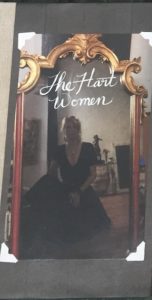 Please buy your ticket and join us at Novel on July 25 at 6pm so you can get your book and we can talk about what it means to be human, flawed, and forgiving. 
How to make a special edition novel, Novel Bookstore Memphis, Novel Memphis, Southern family saga, Special Edition Novels, The Hart Women