How Did I Do?
In 2018, I made a promise to myself: I would get all my old work out there so I could move on to new work. This led to a whirlwind of publication. In 2018, I published Tracking Happiness in print, ebook, and audiobook (I do thank you for continuing to buy the audio book—audio books give you a nice pop in revenue, and it's nice when a book sells itself). This year—2019, in case you've forgotten—I published Model for Deception, The Hart Women, and We R Righting Group. In addition, I got an agent for my dark mystery featuring a formerly homeless man, Harboring Evil, which is currently being submitted to publishers.
Another thing I've been doing in pursuit of my vow is submitting the remaining manuscripts to contests. Last month I reported that one of them—in fact, the first novel I ever wrote, In the Name of Mississippi—advanced in a contest. It didn't win, but I'm glad for the advancement. The Bone Trench (the novel that had an agent and lost an agent) has been advancing in contests as well, but no win with or without publication…yet.
Early fall, I submitted another completed work, Jazzy and the Pirates, to a contest. This is the novel I thought was an adult novel only to be told by an editor it was actually middle grade. So, in a leap of faith, I held my breath and submitted it to a contest in juvenile fiction.
It placed.
It was third place, but I'm extremely pleased they even accepted it as Juvenile Fiction, much less rated it good enough to place. Here's the contest link.
This conglomeration of books coming at you in an avalanche of publication and submission makes it hard to keep up with exactly what book I'm talking about at any given time. (I'll never forget sending a racy photo to my sister for the cover of Tracking Happiness, and she said, believing it was for Jazzy, "Uh, I'm not sure this is appropriate for a kid's book.") But I did accomplish much of what I set out to do. If I set aside In the Name of Mississippi (which I might rework into a slightly different story), what was 7 is now 2. That's success.
So what's next?
I will continue to worm my way around to getting The Bone Trench and Jazzy and the Pirates published.
I'll also keep writing Claim the Disappearing, the NOLA novel featuring a murdering set of Mississippi time-traveling women (as I type this description, I kind of love it.) I've published 10 chapters here online because I wanted to write exactly the novel I wanted to write, without worrying about genre or audience or whether it's too weird or what happened to the plot? My blog gave me permission to do that. Now that I've gotten underway, I feel as if the trick worked, and I might take it back and work on it properly (don't throw rocks!).
Finally, if I get any feedback that Harboring Evil is going to sell, I'll flesh out the second installment in the series, Harboring Malice, for which I've already written the synopsis. In the meantime, in preparation for 2020, I'm setting up workshops and talks on We R Righting Group, encouraging all sorts of folks to use this new tool for building community (It's going well so far).
Oh, and in totally unrelated but very important news: I found my pink raincoat! (You can read here where I was grieving its loss.)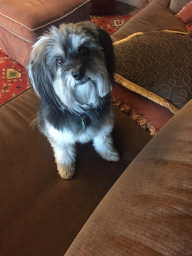 Evangeline wants to know where she fits into my 2020 plans