Bead by Bead: The Ancient Way of Praying Made New
My definition of the Holy Spirit at work is when you think you're doing a very important x, but, unbeknownst to you, the true point of your activity is y. You trundle along, doing your x, and all the while, God is doing y. Suddenly, a beautiful thing blooms into being, something you had no idea was in the works, and all you can do is stand in awe, mesmerized by God's hand in the world.
This is the way I feel reading Bead by Bead: The Ancient Way of Praying Made New (Paraclete Press, 2018). The book is about the history, use, and joy of praying with (and without) beads, but what's really happening in the book is an encounter with a life lived hand-in-hand with the Holy Spirit.
Bead by Bead is part of the Active Prayer series that contains my Making Crosses: A Creative Connection to God (Paraclete Press, 2009) and written by my friend Suzanne Henley. It opens with the concrete—a history of beads and specific instructions on how to pray a set of beads—and moves to the metaphysical: praying "beads" even when we don't have a string in our hand, and making our own lives into prayer beads. Suzanne has lived with beads for years, patiently creating her extraordinary creations, which are featured on the cover and throughout the book. I can't help but think this immersion informs her ability to view the world as a luminous string of prayer.
In all ways, the book expands the concept of prayer beads beyond the traditional view of a rosary. The book contains a wide variety of prayers (or hymns or chants or whatever your little heart desires) to be used as we pray the beads. Those who love history and memoir and diamonds of insight will savor the book. Those who specifically appreciate the opportunity to combine physical activity with prayer will find a home in the book—Bead by Bead concludes with suggestions on how to draw and label our own beads. Along the way, there is no retreat from the messiness of prayer, or our lives, for that matter. Suzanne invites us into her  experience of a "widow maker" heart attack, for example. The primary prayer beads are not called Cruciform beads for nothing.
Please, take the time to be with this book. Settle in. Absorb it as you slowly turn from page to page enjoying the beautiful photos of Suzanne's prayer beads and the delightful phrases crafted by her pen (okay, probably her computer, but definitely her unique mind.) You are going to want to re-read sentences. You'll pause and ponder the insights she is making. You'll guffaw at her humor. You will never look at lemons in the grocery store the same way again. Instead, when you spy the lemons in the bin, you will stop and say a prayer. I can't think of a more wonderful gift a book can give.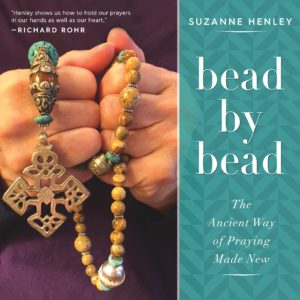 active prayer, Bead by Bead, Bead by Bead: The Ancient Way of Praying Made New, new ways to pray, Paraclete Press, praying the rosary, Suzanne Henley