Baby Groot, et al.
As I was talking to my grandsons about my crush on Baby Groot (and sharing a video to prove how cute he was), it occurred to me that this is not an aberration. The boys will remember that I love the bug band (officially known as the Fiesta Trio) in Dora the Explorer ("Gogi! Come quick, it's the band!) and correctly conclude that I have an affinity for small adorable critters.
So here's a list to prove my life-long attraction to adorable non-human bitties that began with the bug child from the Pogo comic books, which I so loved in the sixth grade I sewed it into being with leftover fabric and stuffing. (Surely that gives me extra credit on the aptitude test for commitment.) In fairly chronological order:
Pillsbury Poppin' Fresh Dough Boy. My dad who was in the grocery business actually got me a vinyl Poppin' Fresh doll exactly like this one; if nothing else, I have family who loves me.

Poke him in the stomach, and he giggles

Chilly Willy, the penguin who cries ice cube tears in Bugs Bunny cartoons. My sister gave me a sweatshirt with little Chilly Willy embroidered all over it; I wear it every Christmastime. (see above re: family who loves me)

He's sooooo cute

Potbelly pigs. I never got one, stuffed or otherwise.
Hedgehogs. I once adopted a hedgehog at the Jackson Zoo. His name was Reggie. As his adopted parent, I got to pet his tummy. I'm not gonna tell you the rest of the story 'cause its sad, and this is an upbeat post.
Mothra's fairies. These cutie-pie twins who summon Mothra with Mothra's Song are my all time favorite movie characters, other than Godzilla of course, and excepting my current crush on Baby Groot.
And, as the one outlier to "non-human," I include the E-Trade baby, remember him? He was the cutest thing, though connoisseur that I am, I only liked the original baby.
Baby Groot is actually a refinement of my "small adorable" attraction in which I'm particularly taken with "small adorable and odd." Here's a photo of my Halloween collection. You'll see the level of my devotion.
Similarly, my unconventional Nativity scene is full of odd but adorable critters.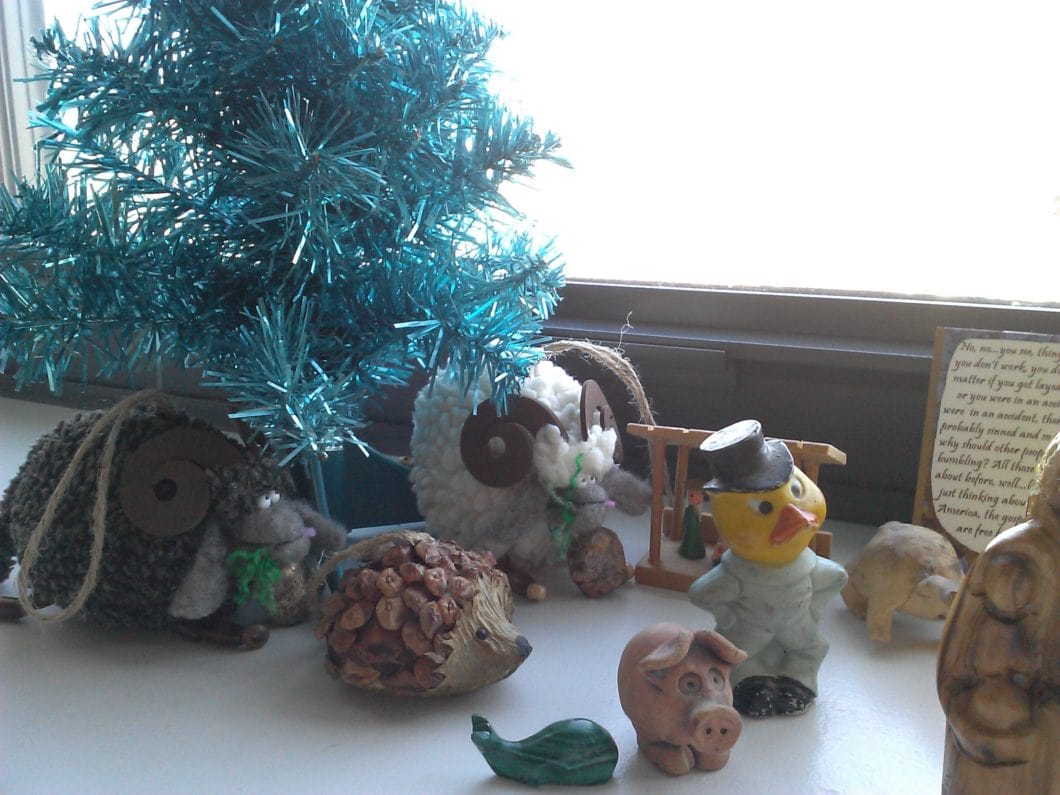 My cousin the psychologist once walked through my house and asked what my extensive collection of odd critters said about me. I have no idea. But here's a National Geographic article that says while the attraction to baby-like creatures relates to nurturing and protecting, the odd factor morphs it into simple joy. I can go with that. 🙂
Happy Sunday!
Baby Groot, baby-like creatures, Chilly Willy, critters, Happy Sunday, Mothra, Pillsbury Poppin' Fresh