Boro Sack Repair
I've been trying this new boro sewing, which is a form of reverse patching. Unlike normal patching, the patch is on the inside of the tear and the stitching on the outside. This exposure of the repair job really appeals to me. Here are my ripped jeans repaired when I decided the rips were getting out of hand.
Never one to let an opportunity slip by unappreciated, I next turned to a vintage burlap sack I bought from France when we first moved to New Orleans. I had stuffed the sack with an ordinary bed pillow—large—and used it as a bolster pillow on our sofa. It didn't last long. The burlap began to shred. I was forced to give it up, though I loved the look of it. Now I saw a chance to save the sack.
Here are my supplies. I chose indigo thread because I liked the indigo with the burlap, and it matched the cut up old jeans I was using as patching. Plus, the indigo seemed kind of French to me, an appropriate companion to the French sack. The boro thread requires a large needle, not pictured. Turned out, the white thread wasn't needed at all. A boro thimble is optional.You can see the small leather thimble in between the scissors and indigo thread. The thimble is worn on the inside of the middle finger. I love the leather thimble.
Here's a close up of the thimble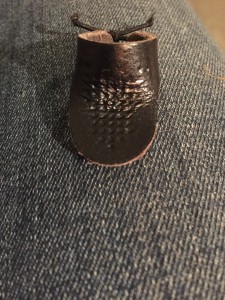 Here's the stitching up close
Here's the first patch underway
The sack turned out to have more rips than I remembered. And it was more wrinkled from being packed away. But, what the heck—I needed a project, so I persevered.
I love the look of the contrast stitches

The project took longer than I thought. I sewed for a while. Here's the final product.
Was it worth it? The sack can't be actually used; the rips would continue to appear. But I can arrange it high atop a wooden chest in the new beach house. The floors of the house will be blue. And the accent color will be indigo. And I'm kind of into faux French things these days. Here's my new hair do, which a friend described as a French journalist look.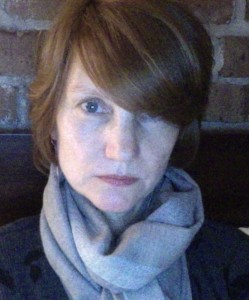 So, I'm glad I did it. My sack will be usable until it isn't. That, to me, is a success.