Writing Alchemy
To take everyday ingredients and create magic out of them. That's what happened this morning at City Park: writing alchemy.
The ordinary: beignets. Okay, maybe beignets aren't so ordinary. Puffed dough, fried 'til airy inside and crispy on the out, smothered in confectioner's sugar. (I'm not exaggerating; I swear there was three inches of sugar in the bottom of the bag.) Pair them with cafe au lait at the Cafe du Monde pavilion.
The ordinary: a coolish, busy Saturday morning with kids running and dogs barking and a man playing music on a sax. Us sitting at black wrought iron tables with heavy wrought iron chairs, nine all together. Who were we? That's the magical part.
The Alchemy
Nine writers arrived from far and wide for one reason: to write together.
Those of us who have been Zooming since our Contemplative Writing workshop in August met this morning in person. Well, those from the area did—we have folks Zooming from all over the country. Zoom is good, but, from the moment we decided to keep meeting after the workshop, we thought we wanted to reconvene in person. Seeing each other face-to-face, it's different, isn't it? This morning was that day.
The Writing
Each movement of this Contemplative Writing Group feels like it's unrolling on its own. No pushing, no pulling. Plenty of effort, most of it on the part of my technologically brilliant co-facilitator. She and I meet, we talk, and the gathering puts itself together. Pieces weave into a whole. A waiting whole. Because plans lie dormant until the people give them life.
From the cacophony of the Cafe du Monde pavilion, we moved to the sculpture garden. An unplanned study in contrasts. One busy noise, the other intentional silence. Large pieces of art hide in niches around corners or prance beneath swaying Spanish moss on centuries-old live oaks sprouting resurrection ferns. At both the pavilion and the sculpture garden, we wrote together then shared as we wished. We were together for three hours. It felt like thirty minutes.
What makes writing contemplative? We have devoted an entire tab in our Google docs to that question. But, in general, contemplative writing focuses on shifts in perspective, detaching from ourselves to better see, releasing control by opening to unplanned ways, drilling inward to move outward into the world, and discoursing with the higher power of the universe. The writing is feeding us. That, plus the beignets.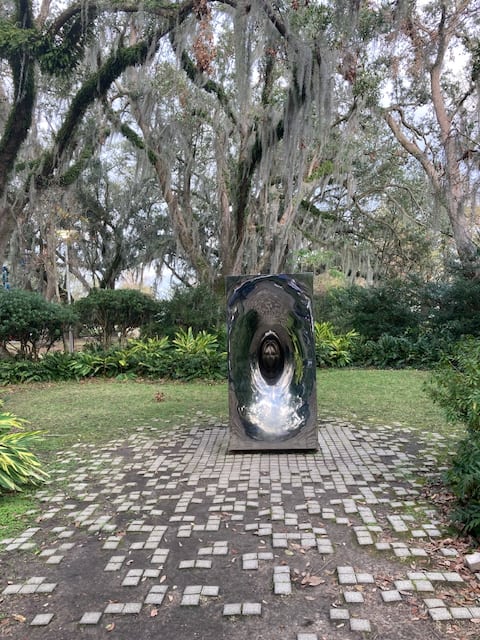 City Park at New Orleans, Sculpture Garden at City Park, writing alchemy