Torpedo Grass
They call it torpedo grass. I thought that was due to its destructiveness. But as I spent three days yanking it up by the roots from where it had invaded the bed, I realized the name is more likely because it spreads like a torpedo. The tentacles shoot out deep underground and burrow through the dark for an incredible length. Then it surfaces. It can run under stepping stones, white as bone, only to emerge alive and green on the other side. It is a tough plant.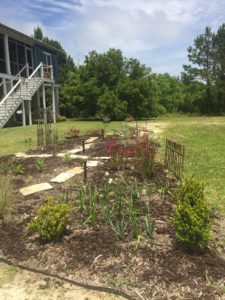 After the weeding, I planted 3 milkweeds. Monarchs have already been spotted in the area. The milkweeds will add to a butterfly-friendly mix of plants I'm trying to establish in the bed. I then laid out 6 bags of mulch.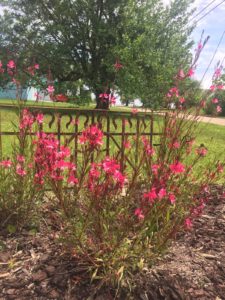 Last, I fed Bigmama's rose bush. This is the bush that I grew from the cutting my uncle gave me from the bush my dad had given my grandmother for Mother's Day. I planted it in Memphis where it flourished tremendously. Then I cut it back and transplanted it in Waveland (Jackson to Memphis to Waveland—it is an amazingly well-traveled rose). It blooms on—wait for it—Mother's Day. It's about to pop out all over.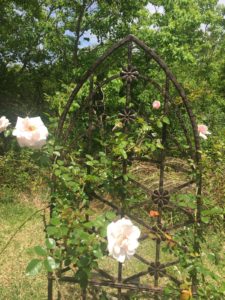 This outing, I also planted Mexican Tuberose bulbs. If they come up, they'll smell divine late summer. And, ya'll—the geraniums lived all winter long. Outside in pots. It was a mild winter on the Gulf Coast.
The Louisiana Iris I substituted for my beloved bearded iris bloomed earlier this spring with profusion. The nursery I've come to rely on for advice and plants is nurturing a giant papyrus for me, which will go with the horsetail and umbrella palm. I'm learning to grow what this land likes. The drift roses are going strong.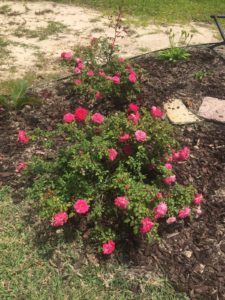 Oh, and here is a bit of the 100 daffodils bulbs I planted this fall. I love bulbs and being in the dirt. I don't even mind yanking up the torpedo grass. Though I wouldn't invite it to return.