Top Ten Reasons to Buy Tracking Happiness
Lord, why do I want you to buy my book? What's so important within the (amazingly awesome) covers that justifies your spending $13.99 for a print  book or $3.99 for an ebook? I mean, why does this book matter, other than the fact that it's mine?
Top Ten Reasons to Buy TRACKING HAPPINESS: A SOUTHERN CHICKEN ADVENTURE (From Worst to Best)
10. You feel sorry for me and want to make me feel better by liking my book
9.  You need to money launder $13.99, and no one can trace your money to my book
8. You want to see if I can spell "sashayed"
7. You'd given up on my ever publishing a novel, and now you're old as Methuselah, and you can't afford to wait for the next novel to come out to see if you like it better
6. You are my mother, my husband, or my dog
5.  I bought your book
4. You want to find out how an entire novel can be set on a train without being boring as dirt
3. You're headed to the beach and need a really good escapism read
2. You want to read about sex in a treehouse
1. You love chickens and want to see them passionately defended in a novel
1 +  You've heard my short stories and know my novel will be funny as hell with a good message
1 ++  You think the cover is really funny and promises a good read
Final 1 (I promise) The jacket blurb caught your attention and wont' let go: 
Okay, there were 13 reasons. I tend to share Lucinda's exuberance. And 13 is an unlucky number, so I had to lie.
If (and only if) any of these reasons apply to you, click here to buy TRACKING HAPPINESS: A SOUTHERN CHICKEN ADVENTURE in paperback or ebook
The chickens and I thank you for your support. 
"I personally don't see the point of being in business with chickens if you're not gonna be nice to them." Lucinda Mae Watkins
Single-again Lucinda Mae Watkins—of the "Edison, Mississippi fried chicken royalty"—learns Big Doodle Dayton is blaming her dead daddy for the drug scandal exploding at the local Chicken Palace fried chicken joint. She takes off cross country on the train to clear her daddy's name, while hopefully discovering the secret to happiness along the way.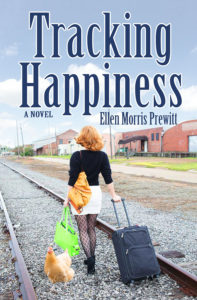 best beach books 2018, best summer reads 2018, chicken novels, Funny beach reads, Funny books, Funny novels, great summer reads 2018, Southern fiction, Southern humor novels, Southern women's novels, Tracking Happiness: A Southern Chicken Adventure