The Inappropriate Dress Gene
There I was, stepping into the gala for the graduating seminarians. The seminarians wore black shirts with white clerical collars. I wore a minidress from Billy Bob's Chinese Laundry in New Orleans. It was leopard-printed. And flocked.
I can't help it.
I have an Inappropriate Dress Gene.
My mistakes are not fashion faux pas. I know exactly how one ought to dress. I was raised by a grandmother who traced her lineage to the banks of Deer Creek in the town of Leland in the heart of the Mississippi Delta. My Bigmama taught me the black dress you wore to a cocktail party Friday night is not the same black dress you don for the funeral Saturday morning. I fully understand the seriousness of dressing appropriately. I just tend to miscalculate.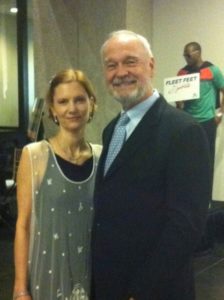 My years practicing law in Jackson, Mississippi were, for the most part, benign—the social pressure squeezing a female lawyer into dressing compliance in the 1980s was fierce. So when I married and moved to Memphis, my dressing kind of spurted free like a spasming tube of toothpaste. At the same time, the sartorial stakes skyrocketed. My then-new husband owns a shopping center wherein is located the swankiest women's clothing store east of the Mississippi River. One evening we attended a dinner party hosted by the store owners. Determined to put my best fashion foot forward, I arrived at her dinner party wearing a black lace see-through shirt and black bra with a fringed scarf strategically draped across the front. I thought I was so sophisticated. The woman cocked her head at me. "Look at you," she said, smiling. "Memphis doesn't dress like that."
I took it as a compliment. 
Not so the Cotton Carnival partygoers. When I attended their Mardi Gras party wearing a tiger-printed catsuit, no one would make eye contact. Or maybe it was the wig with its multi-colored, clacking beads. I was Cleopatra—Memphis, capitol of ancient Egypt, get it? No one else got it, either, not one of those sedately-dressed women in long black dresses who considered a feathered mask on a slender stick a costume. Only Preston Shannon, the famous Beale Street singer, appreciated the look.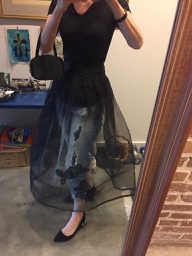 I am perfectly familiar with the Backwards Compliment ("Only you could get away with those Python pants"). The Veiled Suggestion ("Now, I would've worn that red dress to a Christmas party.") Not to mention my favorite: the Exaggeration. A friend once reported I'd been seen wearing black leather hot pants to a party. Sure, I had on black leather skirt with a fringed vest. But black leather hot pants? Who even knows what hot pants are these days?
Southerners as a group are not tolerant of those who dress inappropriately. If you think they are, you've never worn a floor-length silky beige dress to the Orpheum Theatre only to have a woman standing outside ask, "Is that your nightgown?" In fact, Southerners go to extraordinary lengths to ensure every person at a party is wearing the exact same thing. If you go off-script, women will glance at their pink-flowered Lilly Pulitzer dresses then deliberately rake their gaze across your silky pink halter top and thread-bare jeans. "Rock-star chic" is not a Southern term.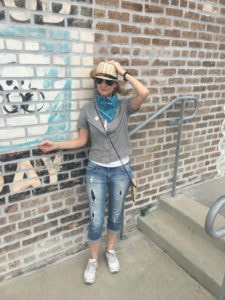 Of course, I could forestall such comments by aiming for the median. Instead, I stand in my closet, hands lifted, and feel the call. If it's the orange curve-enhancing dress that makes me look like a shrunken version of Mad Men's Christina Hendricks, so be it. Only when I find myself in a roomful of knee-brushing Sunday school dresses, do I think, hmmmm.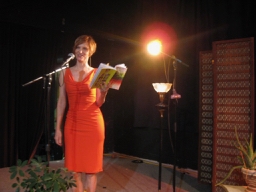 And don't get me started on parties with a theme. The invitation arrives in the mail. I rip it open. "La Moulin Rouge," it proclaims, a gay Paris scene splashed across the front. Excitement wells, common sense jumps out the window. Surely I should foresee the slim cocktail dresses with pink boas draped around the neck as garnishment. Instead, I deck myself out as a Toulaouse Lautrec painting—chunky boots, ripped petticoat, peek-a-boo bra. The women at the party flip their boas at me. At home, I kneel in my flouncy skirt and pray: "Lead us not into costumed temptation, deliver us from social evils."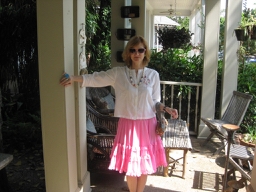 I don't want to leave the impression everyone judges my dressing a sin. I have those who encourage me in my choices…. you could call them accessories after the dressing fact. From them I get free clothes. I've been given a pair of black and white snakeskin boots, a 1920s antique silk blouse, a great-aunt's mink-collared sweater, and a $25 mermaid-tailed chartreuse gown. Of course, these treasures came to me because the owners won't wear them.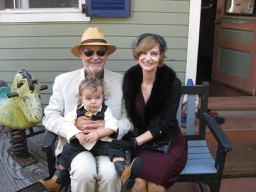 Now that I've worn out my sartorial welcome in Memphis, I've taken on New Orleans. For the most part, New Orleans is extremely tolerant of odd dress. But we've rented an apartment in the Bywater. It's a chic apartment. Everyone going to and from wears black. The apartment's tag line is: "You Are Beautiful." I fear the lease has a clause (written in invisible ink) allowing the management to kick you out of your loft if you don't comply. When management signs off emails with, "Stay Beautiful," I read it as a threat.
Oh, and the seminarian's fundraiser with me in the leopard dress? I listened when I asked my husband what type of party it was, and he said, "I don't know. Just some type of fundraiser." I now request copies of every invitation we receive. If I'm going to misstep, it's gonna be all on my own.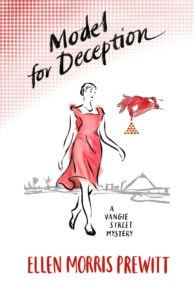 If you enjoyed this essay, take a look at MODEL FOR DECEPTION: A VANGIE STREET MYSTERY. This fun Southern mystery features a fashion model as an amateur sleuth. You'll love the clothing talk!
Cozy Mysteries, fashion cozy mysteries, Fashion model detective, fashion model detective novel, Model for Deception, Model for Deception: A Vangie Street Mystery, southern mystery