Startling Developments
Someone left a dead mole at our front door.
I'm pretty sure it was the neighborhood cat. That sounds like a cat, right? Leaving little presents? I'd prefer to think that it was a generous if misguided cat rather than someone making small-time, horse-head-except-it's-a-mole-body threats.
I can fill up my Kia Soul for $25.
At times, my old car took $75 to fill up. It had a bigger gas tank, and it required premium gas. Plus, the price of gas was higher. Still, the price marker stopping on $25 was startling.
You can major in Comics at the Memphis College of Arts.
Comics and Illustrations, too, I think. And Animation. I love this. If I were young again, I might go to the College of Art and major in Comics. If I could draw.
The European Space Agency landed on a comet 300 million miles away.
300. Million. Miles. Away. Pointed a damn spacecraft into the blackness, shot it off, and hit the target. The spacecraft and its lander left Earth in 2004. 10 years ago. And it landed. 300. Million. Miles. Away. Think about that the next time you toss a wad of paper towards the wastebasket.
Here's the little explorer's picture:
I'm being tested for glaucoma.
I have an oddly shaped eyeball that has been known to confuse eye doctors. I'm hoping that's the case again, but I keep remembering that phrase from childhood: "the silent killer." Surely you can't die from glaucoma?
The 6th Circuit upheld a same-sex marriage ban.
After every court in the country that has examined the issue of marriage equality has ruled in favor of same-sex marriage, the 6th Circuit decides to go the other way. Just when you thought justice was rolling . . .
We painted our front door purple.
I asked my husband, do you have an opinion on the color for the door? He said, purple. We got PURPLE. Here's a photo:
The only Memphis veterinarian I've ever used is retiring.
The vet has seen us through 17 years, three Yorkies, and the care and love of our Evangeline. November 30th will be her last day. She's given us some recommendations for other vets, but it's hard to replace the woman who helped you through the deaths of three precious little dogs and welcomed your new one into the family. RIP, my vet relationship.
Duke can play football.
Duke stuck with David Cutcliffe as its coach, and it's paying off. You may not remember, but back in the day Steve Spurrier gave Duke an ACC Championship. Still, it's startling to see Duke winning football games.
The Morris Ice Company had a banner year.
The Morris Ice Company no longer manufactures ice. It's hard to make a lot of money if you're an ice factory that's not manufacturing ice. Yet, the plant had its best year in a long time. Congratulations, Uncle Hebe!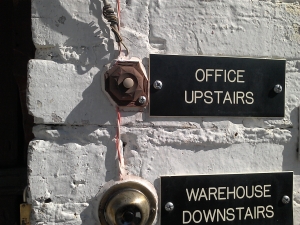 I can ride a bike.
A real bike. Outside. On a beautiful fall day. The progression of my hip arthritis is such that I can't ride the bikes at the gym; they cause too much pain. But today I looked at my red bike and said to myself, now that would make me happy. I pumped up the tires and gingerly hiked my leg over the bar. I sat. I pressed my foot on the pedal, and I was riding!
Will wonders never cease.
Duke football, European Space Agency, Glaucoma: the silent killer, Kia Soul gas mileage, Memphis College of Arts majors, Morris Ice Company