Podcasting or Hacking Through the Jungle
I did it. I recorded the podcast that will accompany the release of TRACKING HAPPINESS: A SOUTHERN CHICKEN ADVENTURE. The podcast, which I've named ELLEN'S VERY SOUTHERN VOICE: NOVELS TOLD WRITE, offers an extended version of the novel. Each of the 26 chapters has accompanying commentary with Helpful Train Hints and Fun Chicken Facts. The whole thing is, as they say, "in the can." Soon, you'll be able to tune in and hear my fabulous fiction in my very own voice. And it scares me to death.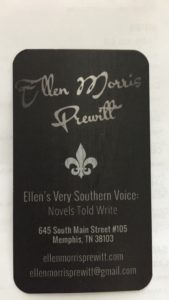 I considered this fear as I drove to The OAM Network studio in Crosstown Concourse to record. Something about my fear was familiar, this feeling that I was hacking a path though the jungle with a machete.  Podcasts are a thing; everyone listens to podcasts; podcasts are not unusual. But I know no one personally who has created a podcast to support her novel. So, for me, this was new ground. And I realized that this is the way it's always been. This is the way I do things.
When I was practicing law in Mississippi in the 1980s and 1990s, male lawyers didn't often make room for women to succeed along traditional paths. So I made my own way—I succeed by hunting for voids. The State Bar Association didn't have a Health Law Section, so I created one and became its first Chair. The primary health law publication was dominated by a male lawyer, so I pitched a column to a different paper, and they launched a column with me as the contributor. When I hit a ceiling with my law firm—a firm I had dearly loved—I joined a new firm and established its Jackson office with me as the Managing Partner.
These memories helped me, really. To see a bigger picture and remind myself this is nothing new. I have been here before, and by "here" I mean that point when you're in the middle of doing something you basically made up in your head and you look up and wonder, what the hell do you think you're doing?
Entering voids, forging new paths, going your own way. Brave sounding, but also a bit like floating in the darkness of outer space tethered to the mothership by the slimmest of cords. Wish me luck on my re-entry.
Ellen's Very Southern Voice, Ellen's Very Southern Voice: Novels Told Write, podcasting, Podcasting a novel, podcasts, Tracking Happiness, Tracking Happiness: A Southern Chicken Adventure