New Cowboy Boots: A Conversation
Suddenly, I was overwhelmed with the need to buy a pair of new cowboy boots. Every Christmas when I was a little girl, we got a new pair of boots. In lucky years, we got the whole nine yards: turquoise jeans, snap shirt, belt, hat, and the boots.
My beloved husband agreed to wedge this shopping trip into an already complicated, whirlwind trip to Jackson. Boots and More, I insisted. Across from the fairgrounds where my Mamo wanted me to train as a barrel racer, no matter that I was actually a competitive tennis player. Life, right?
As I tugged on a pair of boots—I have arches high as the Eiffel Tower; I'm amazed when I can actually get my damn feet in the boots—I told the clerk about our annual Christmas present.
"Oh, yeah," he said nodding. He was tall and skinny with a greying mustache. "My mama said she might as well have given me just the box. I was still playing with it when I'd already outgrown the boots." And I could see it, this six foot four inch man, growing like a weed as child.
Then I told him about the ensemble we got to go with the boots. "Same," he said in the thickest Mississippi accent I've heard in a while.
"We had those pop guns in a holster, too."
"Cap guns," he said.
"Right! Cap guns. When we got tired of the guns, we would take a brick and pop the caps on the sidewalk."
"A brick, a rock, anything you had at hand," he agreed.
"Christmas morning, we would leave that grandmother's house and go over to our rich grandmother's house. Over there everyone would be in their velvet. We'd come tromping in wearing our new cowboy clothes. My cousin told me she was so jealous of us, her in her velvet, us in our cowboy finery."
"All dressed up and nowhere to go," he mused.
"We had Shetland ponies." I laughed. "We never rode them, just lay stretched across their backs."
"Yep," he said. "Lay down in the field with them."
We both smiled, remembering our new cowboy boots on Christmas morning.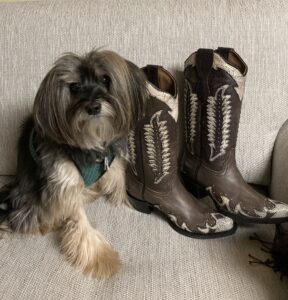 best cowboy boot memories, boots and more, Christmas memories, Mississippi cowboy boots, new cowboy boots