Mardi Gras Waiting
We sit in the dark the night before Mardi Gras Day. If you're not from New Orleans, it's hard to understand what the season means to the city. This 2021 pandemic Mardi Gras has been both muted and astounding. House floats have taken the place of crowd-packed parades and rolling monsters of creativity. The houses are magical. "Yardi Gras," some are calling it. The survival and thrival (sorry, but it needed that) of the spirit is testament to the city.
But now the faucet drips in the kitchen sink and ragged cloths covered in the boy's bathing suits wrap our outdoor pipes in hopes we will escape the busted mains of freezing weather in a city not built for cold.
What a time this has been. A rollercoaster of disappointment followed by exhilarated insistence on joy followed by the plummeting of temperatures into—Lord, are we here again?—unprecedented ranges.
Everyone intended to walk tomorrow. Not gather but observe others walking, joy mingling with joy. Capitalizing on the stationary nature of a house, Tom and I chose to reprise our costumes from last year, plus folded our new house into the theme. The kids were going to walk from their house to ours. We would then walk with them into the spirit of Mardi Gras.
But now the sidewalks threaten to ice, the temperature won't rise above freezing until at least noon. At 9:00am when we usually begin the celebration, it will be 26 degrees. In New Orleans.
My Major Tom costume is laid out in the front room.
My tinsel swishes across the front of the house.
Outer space throws and Space Rocks await eager hands.
We shall see what we shall see.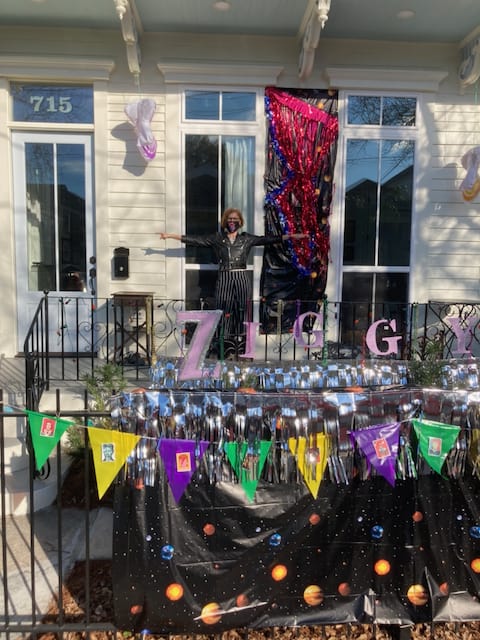 #MardiGras, Mardi Gras 2021, Mardi Gras in New Orleans 2021, New Orleans fiction, Yardi Gras