June: Not a Sentimental Person
Many years ago, when I was letting the Spirit lead me around by the nose, I went to Door of Hope and asked if I could start a writing group for men and women living on the street. Dr. June Mann Averyt, the founder and then Executive Director of Door of Hope, watched me toddle through the door in my high heels and said, "What the hell—go for it."
Well, not exactly. But kind of exactly. Because June is not a sentimental person.
For years, every Wednesday, unless I was out of town or something else created an actual physical impossibility, I was at Door of Hope facilitating writing group. Every time I slunk into June's office with another bright idea—why don't we have a public reading? why don't we make notecards? why not ask for a grant so we can hold Community Writers Retreats where the housed and unhoused write together? can we do an e-zine?—she said, "What the hell—go for it."
Maybe not in so many words. But in that tone. Because June is not a sentimental person.
None of these endeavors was easy. They required hours at her dining room table wrestling with grant applications. Or appearing before grant boards. Or all of us—me, June, a VISTA volunteer—learning what it really meant to put out an e-zine. June never complained about this side activity—writing? for the homeless? are you sure? the grant board asked—when her basic mission already required so much of her. She supported me in what my mother would call a flat-mouth way. Direct. Unvarnished. June's way.
When life changed for June, she left Door of Hope and started Outreach, Housing and Community, where she continued her work to help people get and stay housed. She never gave up on Writing Group—her program offerings at OHC were not scheduled at 1:00 on Wednesdays because she wouldn't interfere with writing group time—and when Writing Our Way Home came out, her name was all the way through it. In tributes, in stories, in thanks, in dedications. She even added a Special Note for us to include in the book. A simple, to-the-point note because June is not a sentimental person.
When life changed for me, I began co-facilitating writing group, sharing duties with the amazing Germantown United Methodist Church, and, when the wheel turned again, I continued as simply a member of writing group, where now every Wednesday when I'm in town, I go to Door of Hope and do writing group.
That's a total of nine years.
Then, last spring, I was playing with paper clay and something told me to roll it out, make it thin, almost like porcelain. As I was gently rolling, it came to me: you are making a gift for June. I thought, well that makes sense. I had never fully thanked June for saying yes to writing group, thereby setting my life on a certain trajectory. June wouldn't mind if my desire exceeded my talents. She would accept my gift as offered.
So I fashioned a house from the rolled paper clay. Using found objects, I created a door. Above the house I positioned an angel. I mounted the house and angel on paper I'd made by whirling scraps in a blender. I took the creation to a framer, and we picked out a really nice frame, me hoping the frame would turn my work into something more than my abilities could create.
While I was waiting on the framer to finish my surprise gift, I got word: June had been diagnosed with cancer. An aggressive lung cancer. Of course, I heard the news from one of the folks June had helped get off the streets. She said the diagnosis was serious.
I called June. I said, "I have something for you. It has nothing to do with your diagnosis," I hastened to add. Because June is not a sentimental person.
I left the gift on her front porch.
She called. She said she'd hung the piece in her bedroom. She'd positioned it next to a painting by an actual Memphis artist. That painting had an angel too. June said she saw the angels every day. Each time we spoke, she reminded me of her angels watching over her.
When I created the gift, in my mind, June was the angel. She was the one who watched over those on the street and helped them into houses. Of course, June would never think of herself as an angel. Because June is not a sentimental person.
But in the short time it took to get from the conception of the gift to its receipt, life had changed. June became the one who needed the watching care of an angel.
I have a peculiar definition of grace. It is when God gives you the chance to do what is right before you know you have a dog in the fight. Before you know you have a personal connection to whatever it is that you are being called to do. Before your motives can become potentially muddled.
So, for example, I was given the opportunity to chair the annual fundraiser for the Arthritis Foundation . . . years before I gave up both my God-given hips to arthritis.
In the same way, the Spirit whispered in my ear to make a gift for a friend in thanksgiving for the impact she'd on my life . . . before I knew she was dying of cancer.
That was a gift to me, the Spirit nudging me to make that gift. It was also a gift to June.
You see, she wouldn't have liked it if I'd given her something in reaction to her dying.
Because June was not a sentimental person.
June requested that donations in her honor be made to Outreach, Housing and Community, 135 N Cleveland St, Memphis, TN 38104. To read more about June's life and the impact she had on the city of Memphis, click here.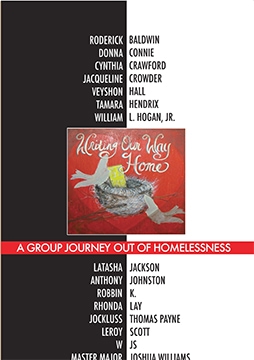 "Writing Our Way Home: A Group Journey Out of Homelessness", ending homelessness, homeless authors, homeless outreach, homeless writing, homelessness, housing, Housing and Community, June Mann Averyt, Outreach