Cherry Bomb, St. Mary of Egypt, and Redemption
At one point in my life when I was struggling with betrayal, I went to my Episcopal priest for advice. He suggested that during this difficult time, I might find it easier to pray to Mother Mary. I followed his suggestion, and thus began a lifelong relationship with the mother of God. CHERRY BOMB takes this concept and expands it to a near-magical degree. Rather than Mother Mary, in CHERRY BOMB, it is St. Mary of Egypt who offers redemption. How satisfying it was to read Susan Cushman's new novel that advocates for redemption and forgiveness, healing and reconciliation.
This literary novel (Dogwood Press, 2017) traces the life of a young woman in Macon, Georgia who uses graffiti to process the hurt that life has brought her. (I'm pretty much illiterate about graffiti, but the apartment where I live in New Orleans has as its patron saint Jean-Michel Basquiat, so I was pleased to see his name mentioned in the novel's early pages.) The story follows homeless young Mare as she meets famous artist Elaine de Kooning.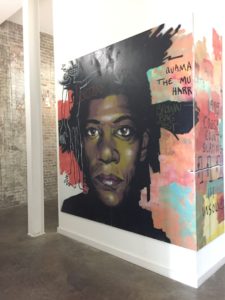 Elaine de Kooning, of course, is a historical figure, whose life Cushman has fictionalized, while using many facts from her life. De Kooning recognizes Mare's talent and mentors Mare as an artist. Mare and Elaine came to art by very different paths—one through MTV videos, the other via the Museum of Modern Art. Their interaction leads Mare to enter the more traditional word of art via art school, and to question what she really wants from her art and life. CHERRY BOMB follows the stories of these two women in alternating viewpoints, which enables us to watch as their life histories gradually intersect. It's wonderful to watch the author weave them together.
I am not going to give away plot points, but I was fascinated with how Cushman brought together the world of graffiti and the world of icons. Icons are a deeply historical form of worship, which Cushman has worked in herself (she created the icon on the back cover of CHERRY BOMB). I didn't know both graffiti and iconography use the language of "writing" and "stories," rather than drawing and pictures.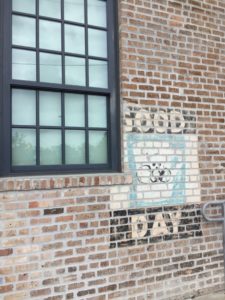 Of course, I'm also drawn to Mare because of her homelessness during much of the story. Her living on the street is well-told, as is the way she copes in that life. Both Mare and Elaine struggle with deeply difficult backgrounds of sexual abuse and abandonment. Working their way to forgiveness of those who have hurt them is hard. St. Mary of Egypt, the patron saint of the author, figures prominently in this process. To include forgiveness of themselves in that journey is remarkable.
DON'T MISS SUSAN'S BOOK SIGNING THURSDAY DECEMBER 14 AT 6:00 pm AT NOVEL. BOOKSTORE, LAURELWOOD SHOPPING CENTER, 387 PERKINS, RD EXTD, MEMPHIS, TN
Cherry Bomb, Laurelwood Shopping Center, Novel. Bookstore, Susan Cushman