An Inspiring Cafe
I didn't use my clothes dryer for two years because of Kristin Fox-Trautman. At the time, I was actively taking Memphis School of Servant Leadership courses. Though much younger, Kristin was further along than I, the leader of classes where I was a student. Kristin did things I so admired, like tracking her carbon emissions and making deposits into a carbon bank when her family took trips. Because of her leadership, I strung drying racks down my hallway in Harbor Town for years, letting my clothes dry naturally, because the clothes dryer is an energy hog.
Back then, Kristin had a dream (don't we all?) of creating a new commercial venture that upended capitalism. Unlike most of us, she kept at it. She began with a food truck before moving to her long-term goal of a bricks-and-mortar site (a Rhodes College grad who has worked in the nonprofit sector for 20 years, Kristin is going to do anything the smart way.) In a few months, Inspire Community Cafe will open at Binghampton Gateway Shopping Center (510 Tillman Suite 110 at Tillman and Sam Cooper) in Memphis, TN. I asked Kristin to tell us more about it.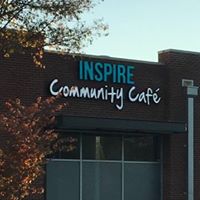 Can you describe Inspire Cafe in a nut shell?
Kristin: Our mission is to provide living wage jobs, hearty and healthy foods, and inspiration for a more just and compassionate community.
And what types of food will the cafe be offering?
Kristin: We'll do breakfast, lunch, and dinner with an eclectic mix of fresh, healthy, and hardy food. We're specializing in gourmet gluten-free pancakes at breakfast and quesadillas, fresh salads, and homemade soups at lunch. We'll have a full coffee bar and fresh fruit smoothies. Homemade pineapple salsa on the quesadillas.
We'll be working with Carpenter Art Garden to offer a variety fresh ingredients. The garden is a local community garden around the corner in Binghampton with 20 teenagers and local residents managing it. Lettuce, kale, tomatoes, herbs, that type of thing.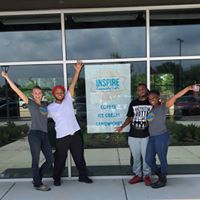 And how does the Cafe meet your mission of inspiring a just and compassionate community?
Kristin: We'll have opportunities to collaborate for economic and racial justice: shared learning, regular panel discussions, book discussions, and community meetings. We're focusing on hiring those who have struggled to find jobs. We'll split about 20 percent of the restaurant's net profits. 10% to neighborhood-based, goal-aligned organizations that we build relationships with over time and 10% into an employee profit-sharing model.
To return to how we met, how does your Christian faith guide what you're doing?
Kristin: It is so core. As a person who strives to follow in the way of Jesus and other wise teachers (Gandhi and other great leaders of faith), I think it's essential to my faith to be a part of creating a community where every person can experience their belovedness and their value. For employees and guests, it's about creating a space where people feel valued. I connect with God though all these people I interact with.
How did you move from concept to actually doing something, when so many of us don't do? What was the impetus for that?
Kristin: Seeing people I love dearly being devalued, especially in the economic sphere. They weren't appropriately compensated for their gifts.
What else can we look forward to?
Kristin: We'll be offering fresh family meals to go. Our location is a good place for folks headed home from work to stop and get meals for their families. We'll also have "Pancakes and PJs" on Saturday mornings as an intentional family gathering with kids in their pajamas and live music.
How can people help you in this wonderful venture?
Kristin: Patronize the cafe. Tell friends/spread the word. If you have a business meeting or lunch with friend, come eat and be with us.
But also, I really consider the Cafe a learning lab in many ways. So I want people to come and have questions and curiosities—"What if you tried this?" Whether that's a food item or working with a nutritionist, for example. I'm open to and passionate about people finding their own sense of call and gifts and feeling free and open to come and share those in our space. How might their own gifts and passions intersect with the Cafe? We want to be an employee-friendly company. Do you have opportunities for employees to grow in wellness and financial literacy—come lead workshops for our staff. Pitch your own idea for a panel or book discussion in our space.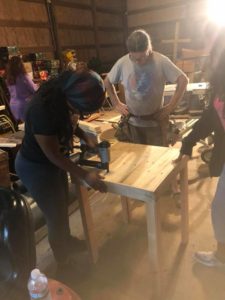 Is there anything I haven't asked that you would like to share?
Kristin: I have a new appreciation for what it takes for any entrepreneur to create a business. Finding the cafe space. Exterior signage. Now when I see the signs, whether hand-painted or whatever, the passion and audacity it took to get that sign up, I think, "That was a lot of work!" And to know how many are so quickly boarded up, it pains me. I can just feel the energy that went into opening their doors, hanging that sign, and I know the failure rates. It has led to a passion: as I figure out how to do this, I want to be an advocate for what persons of color and women entrepreneurs need to get open and stay open. With this massive learning curve, I'm working to cultivate a spirit of gratitude to not be so down on my self for not knowing what I'm doing.
(N. B. When I expressed my great admiration for what she is doing, Kristin demurred.)
Kristin: I want to name my own economic privilege that has given me the privilege and space to pursue this project with room for error and taking risks that most people don't have the privilege to make. As part of a two adult household with potential for earning good wages, I have the space to take on a venture like this, fail, pick myself up, and try again. There are plenty people with a vision, but through no fault of their own, can't pull that off.
If Kristin's story is inspiring you to consider your own food venture, check out an upcoming seminar on food entrepreneur training offered by Co. Starters.  Kristin will be a guest speaker at this 9 week course for food entrepreneurs.
Ps When I told Kristin so many of my followers were from out of the country, she said, "That's great! They can come to Memphis to see Elvis and visit the Cafe!" (You know you love this woman 🙂 )
Inspire Community Cafe Days and Hours of operation
Monday-Friday 7am-7pm
Saturday 9am-2pm
Closed Sunday
Breakfast
Lunch
Dinner
Opening December 2018
Binghampton Gateway Shopping Center, Carpenter Art Garden, Economic justice, Inspire Community Cafe, Kristin Fox-Trautman, living wage jobs