All Saints' Day
On this All Saints' Day, as we left the church singing "Oh, when the Saints, go marching in," I connected with my ancestors. If you've read this blog, you realize that's no mean feat for me. I've spent a lot of time talking about my father's family and their sins. I do not consider them saints. I don't want to connect with them. In fact, I've worked hard to make them "them" and me "me." Oppositional. Bad vs. good. Ignorant vs. enlightened. Racist vs. aware.
Dualism or All Saints?
My dualistic view of my ancestors couldn't last. I don't do dichotomies well. Sooner or later, black and white gives way to gray. But what nudged me to change on this All Saints' Day?
For one thing, an idea has been percolating in my head for a while. In the Episcopal church, we pray for the dead. We believe the departed continue to grow in their relationship with God. In fact, that's what we pray for: that they may grow closer to God. Over a decade ago, I felt in my bones that my refusal to forgive an ancestor who'd harmed me was standing in the way of his deepening relationship with God. Convicted, I knelt on the kneeler and both forgave him and prayed for forgiveness of my own hard heart.
Today's conviction took that one step further.
All Saints or Some Saints?
More than once today, the priest reminded us it's All Saints' Day, not Some of the Saints Day. The folks I've been busy setting myself apart from belong to the communion of saints. All of them. I'm not separate from them. I'm a continuation. The water of life flows from them through me and on. One day, I will be the ancestor. The one who needs forgiveness for my own sins.
So what if these generations of prayers have been "working?" What if those who came before and did such harm have looked down from an enveloping love and realized that too many times, they did not honor that love? What if my ancestors are the ones who've been sending me these nudges to repair the harm? What if they've inspired every good thing I've felt led to do, not just in the sense of wanting to leave a different legacy, but including that very desire?
All Means All
So this is my takeaway. The Beatitudes' "blessings and woes" that the priest said are in each of us are in my ancestors and me. They were blessed and they were woeful. I am blessed and I am woeful. I belong to the human race, the communion of saints, the beloved of God. As do we all.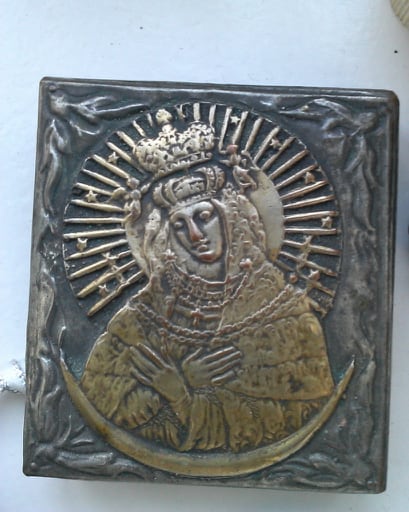 All Saints' Day, inspiration from your ancestors, judging your ancestors, praying for the dead, racist ancestors, the communion of saints